L'étiquette dans son entièreté :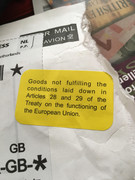 Article 28 and 29 of this EU act, ils servent à quoi exactement ?
En lisant ceci :
If the goods originate from the EU, the articles 28 and 29 of the Agreement are related to it and, therefore, the goods can move freely around the EU. For this also - among other things - we have the European Union.

So next time you come to a package with a yellow label and the words beginning with "Goods not Fulfilling the conditions laid down in Articles 28 and 29 of the Treaty..." you either have to pay duty / VAT or the value of it was below the limits for the payment or the one who should have arranged the withdrawal of the charges, missed the sticker (which is, due to its color, quite difficult). The good news is that sticking labels obviously is not your duty, it's on authorities or maybe logistics companies, so nothing for most mortals.
Mais je suis curieux de voir ce que ces deux articles "disent" exactement.
Une idée ?